「Only in JNS」
――Members talk about what's special about JNS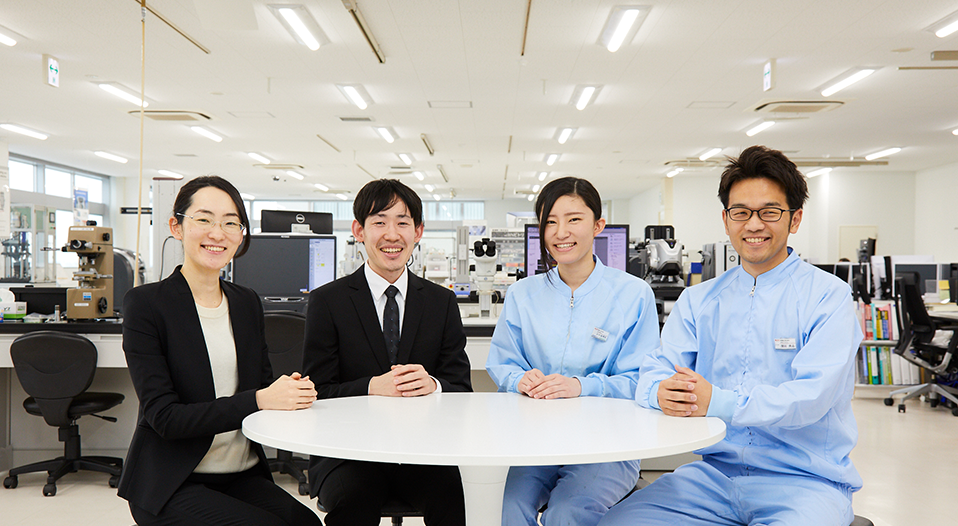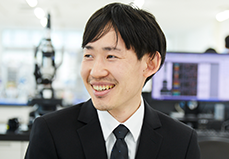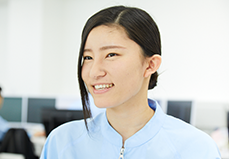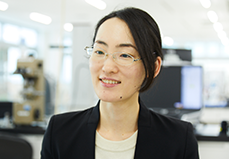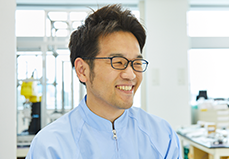 Please tell us about yourself

Yasui
I'm in charge of global sales, accounting and payroll work. As for global sales, main tasks are visiting customers, making quotation, and delivery adjustment. As for accounting and payroll work, payment to purchase, monthly/yearly closing, attendance management, making social insurance related procedures, and so on.

Seguchi
I'm mainly responsible for global sales and ISO. For example, I visit potential customers to develop new business and take care of trading works to satisfy our customers' needs. Also, I collect the opinions from the production department and build the ISO system for the company.

Yoshikawa
I joined this company in 2017 from Hong Kong. Currently, I'm a member of research and development center. My projects are focused on tool development. I conduct field tests of what we developed and analyze the results. Designing facilities is also my tasks as well.

Arimoto
I am also a member of research and development. However, I work in a different area from Yoshikawa, which is about production technologies. My main work is product drawings, but I often collaborate with the production department working on production technologies. One of my best memories from works is that I made a processing method working for the first time in bearing industry.
Please tell us about 「Only in JNS」

Yasui
In JNS, from the first year of joining, there is a lot of chance to go to overseas business trips of many countries. Compared to my friends working at other companies, I could have deep experiences and this made it possible to develop my ability in a short period of time and I became able to talk equally to officer class people in various countries abroad. At the beginning, I was worried but with the follow-up and warm instruction of seniors, I was able to make deeper and closer relationship with the customers.

Seguchi
That's so true. One of my colleagues went "around-the-world" business trip on her first year at the company. It is quite easy to raise your hand and join when there is some projects that you want to join. Moreover, in education, people are voluntarily join inside seminars and field trips for exhibitions. I believe this company understand well that the real cost saver is learning properly when there is something you don't know.

Arimoto
Normally, it takes a long time to final make a decision in many processes. However, JNS has a very short process for decisions which allows us to have very efficient movements. For example, if there is a facility that we need very clearly, we make quick decision so that we can immediately start research. If it is necessary, it is also possible to talk to the CEO directly.

Yoshikawa
I think everyone is wondering about what his/her job influences the company and what the result is. In JNS, it is easy to see what results your works bring to the company. Also, you always get feedback so that you can constantly move forward. For instance, the tool I developed is instantly used in production, which directly resulted in reducing the production costs. Of course, I got the feedback from the production department and I was able to proceed my research smoothly.

When do you feel about "the diversity management"?

Yasui
It's working environment. Many women will have life events like pregnancy, childbirth, childrearing. And such occasion, there would be demands to have more flexible paid holiday systems. I think JNS have flexible day off system. Actually ration to coming back work after giving birth is 100%. Many women are continuing working.

Arimoto
When I work with people from various countries. Working with such a many backgrounds such as nationality, religion, and culture motivates me to come up with a new and innovative ideas. Also, it helps me a lot when I work for customers from other countries.

Yoshikawa
It is quite comfortable to work as a team with a person from different working background. Controversy between different departments is common thing in work environment, but we often work with other departments so that communication is quite efficient and we get feedbacks from various point of views.

Seguchi
I would say I often see a newbie discussing with a veteran employee who is more than 60 years old. No matter what the person's age is, one's opinion is respected and seriously considered.

What do you think about the working environment?

Seguchi
In my case, I use my free time to develop myself and to stay with my family and friends since I can use my holidays whenever I want and overtime work is not so much. It is easy to have a healthy work-life balance here.

Yasui
Less barriers among employees make good working environment. Everyone can feely exchange one's own ideas and thoughts, and the atmosphere is nice. Other than working together at office, there are sports events like softball tournaments and athletic meetings. Through these events, employees know each other well and in this way nice atmosphere is cultivated.

Arimoto
As an engineer, it is motivating that the company is equipped with the most up-to-date facilities and functions.
For example, everyone can use 3D CAD software on their computers and we have 3D laser microscope, humanoid robots, and various measuring/testing machines.
What do you think about the employee welfare?

Seguchi
I like that the company has a cafeteria and provides free lunch. Since the view of the place is really nice, we use it for parties or watching fireworks after work.

Yoshikawa
Welcoming ceremony was very impressive. One year, we had the ceremony at Universal Studio Japan, then we enjoyed rides. It is different every year. The year after that we went to the most famous comedy show all together after the ceremony.

Arimoto
I totally agree. Just like welcoming ceremony, it is also fun to have sports events, new year's party, and employee trip. The trip to ISE shrine was so much fun. We went hot springs and had first-grade beef for lunch.

What kind of person will enjoy a company like yours?

Arimoto
A person who is interested in wide range of areas. In this company you will face something you haven't studied before. For example, I am a member of R&D, but I joined projects for exhibitions, marketing, sales, or even recruiting. These helped me very much to think in various viewpoints.

Yasui
A person who keeps challenging for a higher goal. JNS always encourages employees to challenge. JNS is perfect for those who prefer to challenge higher goal. There is a Kaizen activity called NPM in JNS, there are a lot of challenging tasks for those who are not satisfied with and positive to improve the current situation.

Seguchi
It's a bit similar to what Yasui san said, but I think it's a person who finds one's own job. You always have people supporting you and saying "you don't have to worry about failure. Keep challenging." If there is someone who enjoys finding new goals, this would be the best work environment.

Yoshikawa
I guess it would be someone who wants to work in a global working environment. The company is more than 50 years old, but the way it acts is so young and global. A person who wants to work in a world, not just in Japan, will find delights in working here.