Let's talk about our HRD (Human Resources Development)!
Our new employee, Ms.Tamura, asked questions to Mr.Nishi, a senior employee and a manufacturing meister.

Ms.Tamura:Research and Development

Mr.Nishi:Quality Assurance
Manufacturing Meister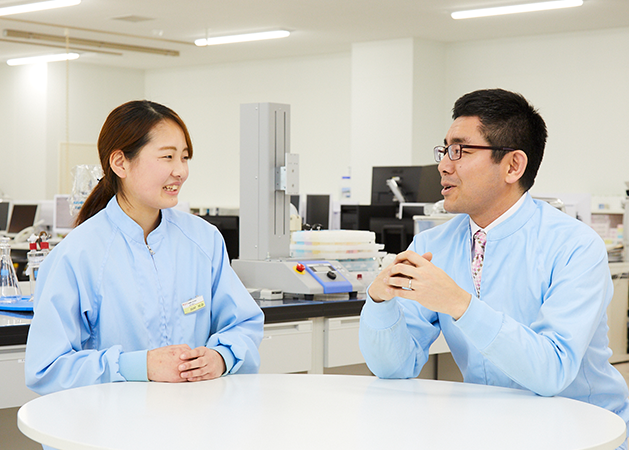 Let's talk about our HRD (Human Resources Development)!
Our new employee, Ms.Tamura, asked questions to Mr.Nishi, a senior employee and a manufacturing meister.

Ms.Tamura:Quality Assurance

Mr.Nishi:Quality Assurance
Manufacturing Meister


What is so special about "JNS's HRD"?

The point is that "our employees can grow in a short period of time."
You know our corporate philosophy, right?
That' right. It's "Good products start from good human resources." We embrace and respect our diversity, so no matter what the employee's age, sexuality, nationality is, everyone gets a chance to challenge something new to develop themselves.

This is based on our diversity management, which was awarded in 2018 by Japanese ministry of Economy, Trade and Industry.

We see the value of diverse background as a way to improve productivity and creativity on the job. This leads our employees to increase the work efficiency and to accomplish achievements in a short amount of time. JNS's HRD is special because we raise every of our employees as our most unique and valuable asset, not just one of the many.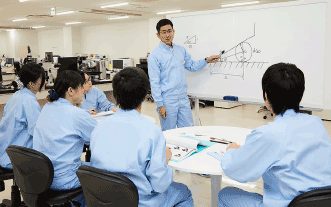 Can you tell me more specifically about the HRD system?

Our HRD system consists of two parts.

The first is education and training of skills in workplaces. The second is challenging to a new area which may benefit our business in the future. "Certificate Support", one of the HRD system, holds numerous seminars and provide financial supports for those who want to improve skills.

For example, your cost for the certificate of machine maintenance was covered by this system. Although you currently don't have any related projects, being a multi-skilled engineer is essential for the future. Therefore, we encourage our employees to challenge in various areas. It doesn't matter if anyone has done it or not. You can always be the first penguin.


What are the benefits of putting efforts into HRD?

Earning a certification in work related skills help you have better understanding in your area.

Not only raises the skill levels of engineers but also it helps the sales team understand well about our customers and catch their needs.

Moreover, HRD raised our standards in challenging new things. Achieving a high level of skillfulness gave us more opportunities, such as developing a new technology and a new product. Now, we are all saying "let's try if we can do."


How do you train new employees?

The two very important things that you should learn in new employee training are "people" and "process."

Therefore, you will meet everyone and experience every process in this company. By doing this, you will have a good understanding of our company. Furthermore, this experience will make your job so much easier when you work with other departments.

Lastly, since you will have chance to see all the projects going inside of the company, it will help you find what you want to do in the future.

So, there are many certified employees in JNS. Is there any requirements to use the "HRD system"?

Anyone can use the system. You can participate seminars. Also, you can apply for financial supports for certificates. By this system, more than half of our employees are now certified by Japanese government.

There are two chances in a year to earn the certificate. Let's talk about what you want to challenge. Which area are you interested in?

I want to be a professional in using measuring tools!

In that case, you may want to challenge the certificate of machine inspection. There are many employees who have that certificate and we have all the tools and learning materials.

If you want to challenge something no one has tried, there is a system called "manufacturing meister" that you can take advantage of. The company is open after work and even on weekends for those who want to study and practice.



Our certified employees are playing an important role in our company. I believe you will be one of them, too.